Make orthodontic treatment exciting and increase patient cooperation with our colorful line of elastics, chains, and ties.
Keeping patients engaged is one of the keys to a successful treatment. With Lancer's brilliant rainbow of colorful elastomerics, patients can express themselves with the elastics that best fit their personalities. This helps to increase patient participation, thereby helping to ensure perfect results. Lancer's elastomerics are manufactured from the highest quality, surgical grade materials, which exhibit consistent force levels for effective tooth movement.
Designed for efficiency and patient compliance, Lancer's ligature ties offer several benefits:
Because of their high resistance to breakage and tearing, valuable chair time is saved and patient confidence is enhanced.
These long-lasting ties are easy to place and easy to remove due to their highflexibility and resiliency without stiffness.
Facilitates both archwire retention and tooth movement with long-lasting elasticity and an optimum .120 diameter.
Double-ended thumb loops help gloved hands keep a secure grasp.
Latex-free.
Universal Sticks
Patient Sticks
Arch Sticks
Mini Elast-o-loop Ligature Ties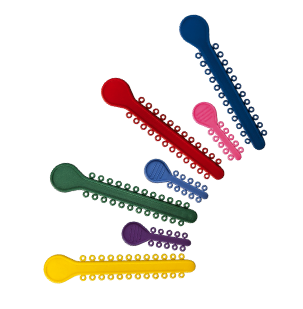 Lancer's Velocity™ line of latex-free ties feature more vibrant colors, and exhibit slightly stiffer physical characteristics for increased duration of hold and to endure higher stresses for longer periods of time with less force degradation. The result is that Velocity™ produces effective and tenacious forces for facilitating tooth movement.
Two variations: Patient Sticks and Arch Sticks.
Available in 50 vibrant colors.
The diameter of each ring is .120 – sized to fit any type of bracket.
Pack of 1,008 ties.
Lancer is your new global dental partner.
We provide top quality products: discover more.
Precise in manufacturing and scientifically tested, Lancer's Elast-o-Link™ latex-free chain is admired by doctors and loved by patients around the world. Elast-o-Link™ chain offers superior memory and durability characteristics with excellent color stability and stain resistance.
32 vibrant colors.
Designed to ensure consistent force delivery with minimal decay rates.
Continuous, gentle forces for predictable tooth movement.
3 sizes: X Short, Short and Medium.
Each spool contains 15 feet of chain and can be easily accessed by placing the spools in Lancer's chain dispenser.
Lancer's Spool Dispenser offers big storage at a compact size and it holds up to 13 spools.
The dispenser can be used to store Chain Elastic, Coil Springs and Tissue Guard.
Velocity™ Chain is made from optimum material so it maintains its elasticity over time and does not require frequent changes.
47 vibrant colors.
3 sizes: Continuous, Short and Long.
Each spool contains 15 feet of chain and can be easily accessed by placing the spools in Lancer's chain dispenser.
Latex-free.
Intra Oral and Extra Oral Elastics
Lancer's latex elastics are made from superior quality, topgrade pure latex tubing. They provide top performance, long fatigue life and force reliability.
Each sports pack is labeled with a different sports activity for easy identification. Our non-latex elastics are made from special material ideal for sensitive patients.
Besides traditional elastic ligature, Lancer offers a coarse superelastic ligature thread that facilitates the tying procedure without slipping. This elastic thread also maintains its elasticity for a longer period of time compared to the commonly used elastic ligatures.
Multi-colored Elastic Directors
Elastic placers make placing and removing elastics easy for patients. Packaged in assorted bright colors.
Slip-Not Tubing
Knots stay tied because tubing crushes at the knot and remains firmly in place. Tubing is put through a special heat-curing process that extends elasticity for unsurpassed quality.
Elastomeric Thread
Made from strong high-quality elastomeric resins. Won't unravel, absorb moisture, or deteriorate. Fresh materials assure long shelf life.
Lip Bumper Tubing
Flexible plastic tubing which slips over archwire to prevent irritation of patients' tissue.
Radio-Opaque Blue Separating Elastics
Placed between the posterior teeth, these elastics exert a light and continuous force for opening contacts. X-ray visibility provides for additional safety and confidence.
Radio-Opaque Blue Separating Stars
Used to facilitate the separation of the molars in preparation for the banding phase of treatment, Lancer's separating stars are highly visible, smooth injection molded plastic separators that can be used in both the anterior and posterior segments.
Elastic Placing Plier
Ideal for placement of elastic separators.